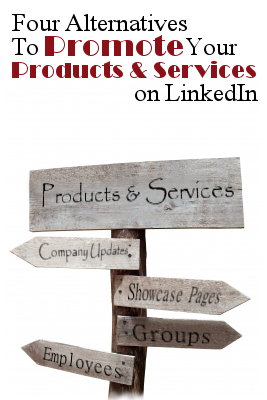 For most, LinkedIn is used to personally promote their professional skills and experiences through their own personal LinkedIn page.
For companies and brands there has always been the Products & Services tab on their own company page to do the same thing.
When I managed a LinkedIn company page I used the products and services section to highlight my company's offerings.
It provided some great real estate where I could show off the latest and greatest we had to offer. I used the three top banners to accentuate our very best. I had a section to explain our mission statement and a place to gather recommendations of the products.
I was building real, valuable, social currency.
Although I don't currently manage a company page anymore I was still sad to hear they've killed another one of their features. Recently I wrote about the death of the LinkedIn Intro service for iPhones.
Yesterday I received the below email saying they will be discontinuing the Products & Services tab for company pages too.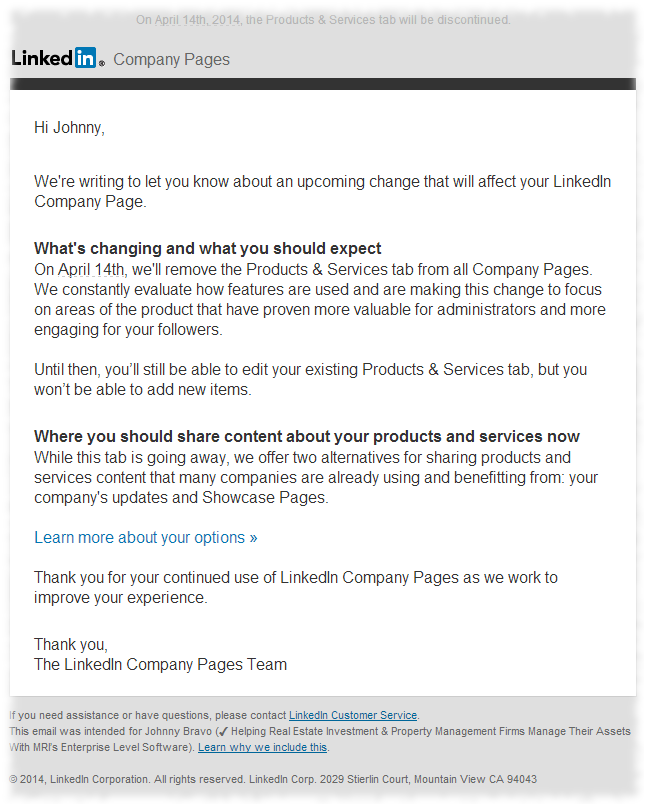 And when you visit a LinkedIn Company page you are greeted with the below message bar.

Well I'm here to give you a few other ideas that LinkedIn may not have already thought about.
Four Alternatives To LinkedIn Products & Services Tabs
Before you scream and protest I want to give you a few ideas that will help ease the pain of this transition.
Below I've listed four alternatives you can use to promote your products and services on LinkedIn.
Company Updates
As mentioned in the above email, Company updates are a great place to highlight your products and services. However it's important to understand that it won't help if you aren't constantly providing unique content. If your plan is to use the same landing page over and over then you won't get much out of company updates.
Although I'm sure it is a great product page for Widget A, if you post the same page constantly you will have to be mindful to change the description every time (easily editable before posting) as well as the picture (not so editable).
This means that if you only post Page 1 for Widget A, you will always have the same picture in the update. The way to get around this is to have a company blog, just like you should have a professional blog, and post regularly about your products.
Talk about various features, uses, users, differentiators and everything else you can about the product. Each blog post will give you a new story to tell, new description, and new picture to highlight your product.
This will allow you to provide constant and unique company updates for your products and services. The last thing you want is a string of updates that are exactly the same over and over and over again. That will not help you sell your products and will look like spam.
A limitation though is that someone has to be following your company in order to see those updates.
Showcase Pages
Showcase Pages are what have essentially cannibalized the Products & Services tab. They were announced in November 2013 as a way to build relationships between users and products.
They are subpages of your Company page and are dedicated to an individual product or service. So for companies that have a wide offering, each offer would have it's own showcase page.
This allows brands to better target their market audience with the updates on showcase pages.
Some of the key features of a Showcase Page include:
Larger Top Banner: This is great real estate to use to market the product or service.

Two-Column Feed: Helps highlight new content.

Separate Analytics: Showcase Page and Company Page analytics are separate.

Sponsorship: They allow you to sponsor updates from the showcase page.

Feature Groups: You can feature groups on the page.

3rd Party Management: You are able to manage the content through social media management dashboards such as Hootsuite.

Unshared Followers: Company and Showcase pages do not share followers. A user must follow both to see updates from both.

Limited Number: At this time you are only able to have 10 Showcase Pages.

Vanity URL: Right now Showcase Pages are populated with linkedin.com/company/[showcase_page_name]. This is not currently editable.
Groups
Groups are an excellent place to promote your offerings. Almost every industry has a group that caters to its niche. By participating in those groups you are able to share helpful/valuable information about your products or services. But be careful about self promoting in the groups too much. Some groups may ban you completely if you do that while others have specific sections for it.
Another great idea is to create your own group. When you do that you can self promote all you want but I would still lean more towards providing valuable information rather then consistent self promotion.
A company group is a great way to market to segmented groups of customers.
Employee Profiles
If your employees aren't already on LinkedIn then they should be. If they aren't already promoting your products or services they need to be.
Employees are one of the most under utilized resources available to a company's marketing plan. If employees aren't being strongly encouraged to spread the word then there are dozens, hundreds, even thousands of opportunities for ambassadors to champion a caused that are being missed.
It's important to understand that it is in their best interest to promote their company products. The better the company does, the better they do. And its a hedge against the company going out of business and them losing their job.
Have employee's share blog posts, press releases, product brochures, and major company updates. They can post these in groups they are a part of or on their own profiles as updates.
More Changes To Come?
I don't know what LinkedIn has in store for the next few months but based on the changes that have already taken place I won't be surprised if they change things up some more.
~ Johnny Bravo
Image courtesy of ponsulak / FreeDigitalPhotos.net
Looking For Success In Sales?
Start Your FREE 7-Day Sales Success Course Today!
Learn the skills and techniques your competitors don't want you to know.