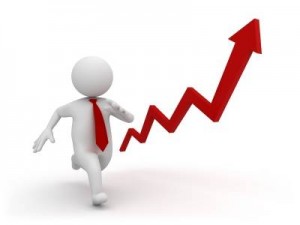 This post has been a long time coming and deviates a bit from the norm on the Sales Pro Blog. Still, I think it will be very useful for any sales person looking to build their own professional brand.
Specifically this post will focus on the results from my April Blitz as eluded to in the very first post on the Sales Pro Blog. It will serve to give an idea of how to rank a website in the Google SERPs and how I personally got the ball rolling quickly.
I came up with the idea for The Sales Pro Blog while in Ohio, training for my current position selling property management software. It was definitely an idea I've been muddling over for a while.
Creating a blog that I could keep with me no matter what industry I was in. When I came to the realization that sales should be the focus I began work on what would become a huge endeavor.
If you've read some of my other posts you may have seen that this is not the first blog I've started. In the past the sites I have started were called "niche sites". These sites were created around a specific niche or keyword term(s).
During my adventures of starting those sites I pick up a thing or two about search engine optimization (SEO) that led to the idea of the April Blitz.
How Search Works
In order to explain why I chose the method I did for the Sales Pro Blog it's important to give a high level view of why I expected it to work.
One thing to keep in mind, I AM NOT AN SEO EXPERT. I do not claim to be, nor do I believe there is such a thing. It is an ever changing landscape where methods that worked yesterday are disastrous tomorrow.
The way search engines work is by "crawling" sites for information relevant to a search term or "keyword".
There are many factors that search engines take into account when displaying a Search Engine Results Pages (SERPs). For example, the number of times the keyword is present on the site, the relevance of the site to the keyword, if other high authority sites "link" to the site, along with supposedly over a hundred other criteria.
Because there are a large and mostly unknown number of criteria used to rank a webpage there is really only one way to be successful at search engine optimization.
Make your site searchable, make it relevant, and make legendary content. Content that is so good it can stand the test of time, and reader's can't help but to spread the word, link to it, and eagerly wait for your next post.
The reason for the April Blitz is because search engines love "fresh" content i.e. sites that have recently posted content.
They also "crawl" sites that are updated constantly (multiple posts a month or even week). So I figured, why not post A LOT and have Google crawl my site more often?
April Blitz Results
I won't lie. I did not treat the April Blitz like a case study where I kept track and measured ever attribute I could.
I was so focused on my content (which I'm OK with) that the administrative stuff was secondary. But I did capture a few images and stats that will help showcase the results of the April Blitz.
The below image is from Google Webmaster Tools and displays the Search Queries from March 13th until June 2nd.
Search Queries are when a person searches for a specific keyword term and your site is one of the results.

As you can see the number of search queries started to steadily increase beginning April 2nd. By that time I had already posted 3-4 post within 2 days, and 16-17 posts over all.
Now remember, my first post was on March 1st. The next week I posted twice, the next twice again, the third week three posts and during the last week of March I posted five times.
Why the build up? Well because the Sales Pro Blog was a new site. Search engines didn't even know to crawl the site. So by gradually increasing my post cadence I was "training" the search engines to crawl my site more often.
Then when April rolled around the search engines had already found my site, already started to crawl it more often, and started liking the site more and more.
The below image is again from Google Webmaster Tools and shows the number of pages indexed by Google. As you can see there is a HUGE jump during April.

Obviously this is a result of the April Blitz.
This graph fits PERFECTLY with my theory that posting extremely often (for a personal blog) will cause search engines to crawl more often.
To give you some relevance I purchased the domain www.salesproblog.com on Feb. 1st, 2013. I got to work and created some of the key pages like the Welcome, Resource, and Archive pages. That is the first bump you see.
I then posted 13 posts during the month of March…the second bump.
By this time Google new to search my site regularly. And since I had started my blitz, the third…catapult…happened. As you can see Google was searching my site more often and finding more and more posts then before.
Organic Search Traffic
The last few pictures I want to showcase are the organic search traffic I received during each month (orange) compared to the previous month (blue). These graphs were pulled from Google Analytics.
March (23) vs. April (27) = 17% increase

April (27) vs May (101) = 274% increase

May (101) vs June (234) = 132% increase

As you can see my organic search results have increased dramatically which is exactly what I expected and hoped for.
One thing I want to make sure is clear is that my intention for the April Blitz was not to immediately increase my organic traffic, doing that would have required "black hat" techniques which are frowned upon by the search engines.
Instead I took a long term approach and intended to entice search engines to visit my site often to re-evaluate it's rank and search engine results.
April Blitz Review
Overall I am extremely satisfied with the results from my April Blitz. I feel the experiment yielded the exact results I had expected, planned for, and hoped for.
I am currently earning impressions for a variety of keyword terms. I've included some of the top ones along with the site that gains the most impressions for that keyword term.
As you can see these align perfectly with my two goals for this site.
Share my knowledge as a professional sales person. 

Provide visibility as a property management software sales representative.
As I finish this post I am fascinated by the gains I have made with this site in such a short period of time. And moving forward I may provide additional updates on my organic search results, ranked keyword terms, and search query gains.
Until then I hope you will have found the information contained here helpful. Especially if you endeavor to start your own niche site to help with your own professional brand development.
~ Johnny Bravo
Image courtesy of Master isolated images / FreeDigitalPhotos.net
Looking For Success In Sales?
Start Your FREE 7-Day Sales Success Course Today!
Learn the skills and techniques your competitors don't want you to know.