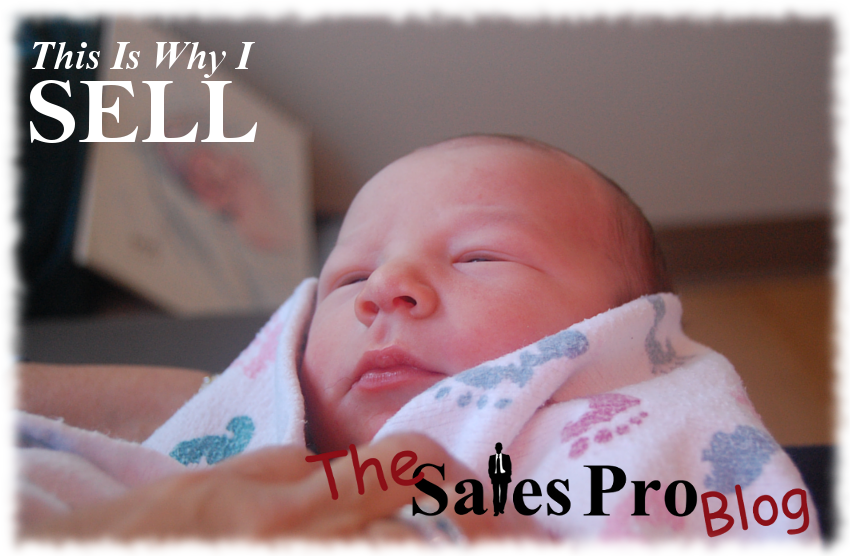 Sales is not an easy job. As much as I care about my job, am passionate about my product, and am thankful that I am where I am in life; I still sometimes question why I sell for a living.
I know how I came to be in the sales profession, but sometimes I have to remind myself of why I sell.
I consider myself a smart person; so why sales over law, over engineering, over manufacturing, over physical education, over any other profession possible?
Well if you look at the image to the right you will find my newest daily reminder for why I do what I do.
I'd like to introduce you to my son, Bailey Bravo. He was born on Feb. 19th at 12:54pm. As I've mentioned before he has caused a lot of worry in my life but as I imagined in my wildest dreams, he is absolutely perfect.
His arm is disformed as we always knew but there are no other issues besides that. No blood issues. No worry for him except what time in the middle of the night will he wake us up to feed.
The relief I felt when I knew that he was ok (including a 4 hour stint in the NICU) is unlike anything many people have ever felt.
My Answer For Why I Sell
I could talk all day about my son. About how amazing he is. The things I can't wait to teach him. And the simplicity of his life (eat, sleep, poop).
But that would only serve me and that is not why I keep this site going. There is a lesson to be learned from my son's birth.
Understanding your own drive….
For most, going to work is a matter of earning a paycheck. This is how it was for most of my life. I worked for money. The more money I needed, the more work I did. It was all about MY wants.
The drive for being successful was about money. And believe me, money is worth working for. But money is still a tool. Nothing more and nothing less. Money can be used for good as easily as for evil. I can build a bomb or I can use my money to build a hospital.
Although my drive once came from the desire for more money, it now comes from a new son. We all have something external within our lives that drives us. I ask you to question your own desires to find out what it is that drives you.
Your children, your spouse, your pet dog; it really doesnt matter. As long as your have a reason and you reconize what it is.
So why do you sell?
~ Johnny Bravo
Looking For Success In Sales?
Start Your FREE 7-Day Sales Success Course Today!
Learn the skills and techniques your competitors don't want you to know.