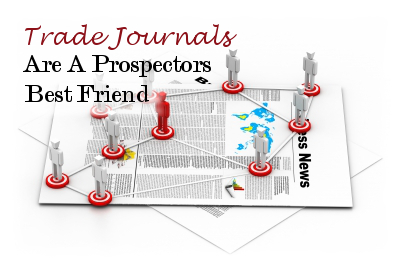 One of my favorite sources for new prospects, industry news, and shareable content for social selling is industry trade journals.
Sometimes they are a geographic trade journal such as the Los Angeles Business Journal or Orange County Business Journal.
Other times they are specific to a trade or industry like GlobeSt.com which focuses on the real estate industry or PlasticsNews whcih focuses on the plastics industry.
Much like LinkedIn groups, trade journals are the place to go to stay in touch with the business happenings around you. Less interactive then LinkedIn of course, but still a valuable resource for news and in my case prospects.
I've found that some of my best prospects, and news that allowed me to get my foot in the door, started with a trade journal.
The way it works is simple. I get the trade journal, with pen in hand, and go page by page through the articles.
I honestly don't read every article. Nowhere close. But I do scan the titles to see if one will be worth diving into. I usually look for something that mentions a large real estate transaction or partnerships.
When looking for prospects in trade journals its important to understand who your ideal client is. You won't always get 100% of the information you need to property qualify a prospect but you will be able to get a general idea of it's worth pursing.
As I'm going through the articles I will either circle the prospect or write them down in my notebook to reference and research later.
New And Current Prospect Information
I've easily been through hundreds of trade journals in my career and I've always been able to find information about new and current prospects I am working on.
For example I may read a story about a prospect I've already been reaching out to who recently purchased a commercial building in my city.
A story like this provides a great opportunity for me to reach out and reference the story I found about them.
"Hi Christy, I came across this story about ABC Partner's new acquisition in Downtown Los Angeles. That's a great building an an even better location. Congratulations on the purchase. I'll be a few blocks away with a customer of mine who purchased a building of similar quality. I'd love to set up a lunch with the three of us. Let me know what works for you next week and I'll set it up."
Obviously you'd adjust as needed for the article and prospect but the general idea is to send a highly personalized email or call to them referencing what you found in the trade journal.
Most companies like to boast about their achievements so if you don't think that your top contact would be interested in talking about it you can always reach out to the companies PR or Marketing department. They would love to talk about the story.
Besides the prospects you already know you are also likely to find some that you didn't know about. Perhaps they are new to the local scene or maybe they just don't tend to have a strong news footprint.
More often then not I've found these new prospects while digging into the details of the stories. Often times, at least for my industry, these lesser known companies will partner with the more PR friendly companies.
Variety Is The Spice Of Life
It's important to read as many trade journals as you can. Not only for your geographic territory but for your industry as well.
Different journals provide different information, sometimes about the same story. Be sure to check them regularly too. I like to go through them first thing in the morning (online) and then around 5:30 or 6pm (print copies). This gives me a good way to start the day as well as wind it down.
No matter what industry you are in I am sure there is a trade journal specific to you. If you don't believe me or can't find one, let me know in the comments below.
I will be happy to help you find one where you too can find great prospects.
~ Johnny Bravo
Image courtesy of ddpavumba  / FreeDigitalPhotos.net
Looking For Success In Sales?
Start Your FREE 7-Day Sales Success Course Today!
Learn the skills and techniques your competitors don't want you to know.