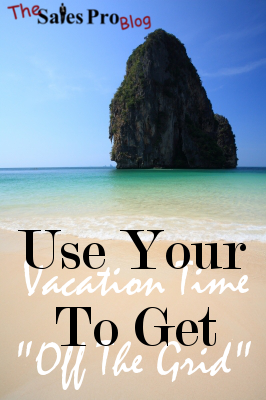 While I'm "out of the office" for the next couple of weeks I've found it to be very hard to not constantly check my emails or SalesForce.com login. I know I have nothing to worry about but I still worry.
I know as a sales person it's really hard to disconnect but it's important that you are off the grid every once in a while. I have an amazing team backing me up so I have absolute confidence that any pressing matters will be taken care of in my absence. 
The point I want to make with this very short post is that when you take a vacation you should really take a vacation. Limit your email checking. Don't respond unless it's an emergency. And actually do the things you took a vacation to do.
I have to imagine you didn't take a long vacation to check your emails or put out fires.
I also know that anything that doesn't get taken care of is not life threatening and can (and will) be handled when I return. The world will go on spinning whether I'm returning every email and phone call or if I'm spending time with my family welcoming the newest Bravo in over 30 years.
My out of office explains clearly that I am going to avoid sending emails whenever possible. And if the powers that be decide a situation needs my attention then so be it. But I am not going to worry about something that may or may not happen. Especially since it's unlikely to happen.
I hope you can take my lead and unplug for just a little bit. I'm still not perfect with this either but every chance I get to spend with my family I will use. And for those times when everyone else is asleep, well we'll see what happens.
~ Johnny Bravo
Image courtesy of bplanet / FreeDigitalPhotos.net
Looking For Success In Sales?
Start Your FREE 7-Day Sales Success Course Today!
Learn the skills and techniques your competitors don't want you to know.