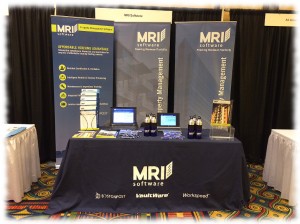 I recently had the opportunity to represent my company at the AHMA-PSW (Affordable Housing Management Association Pacific Southwest) which was a great place to showcase some of our newest trade show giveaways.
Myself along with another Account Executive were tasked with showcasing our company products to a highly targeted audience. This trade show was all about the affordable housing market. Something we are very good at with our Bostonpost software.
In fact I have no problem saying we are the absolute best at providing this industry with the very best software out there.
Myself and the other AE were lucky enough to have plenty of time to prepare for this show. This I understand is not always going to be the case. There are times where shows seem to come out of nowhere.
But believe me when I say that there are a few things you can do, quickly, that help you stand out from the rest.
Below I highlight some of the things I do which help me stay a step above the rest when it came to showcasing our brand to the affordable housing market.
Research The Attendees
First of all you need to know who will be attending. Will it be other vendors, executive level, high level managers, low level managers, or other professional positions?
For me I knew that this show would likely be attended by a few executive level decision makers but over all I would get to meet a lot of property managers and maintenance managers. People who have influence but probably wont be signing any paperwork.
An attendance like that is not always a bad thing since you're likely to run into many people from different departments within the same company.
When they come up to see what you're all about you can quickly find out a lot of information.
For example in my case we could find out what they are currently using, their general feel for the software (do they like it or not), have they ever used other types of software.
But most importantly we were able to find out who made decisions about property management software. This is great intel especially if you have been prospecting on that account for a while.
Reach Out In Advance
I give some great tips for doing this on my resource Top Trade Show Giveaways. Most trade shows have a list of attendees that is provided before the actual show.
In the case of this show it was available online for any attendee to see. All I had to do was print it out and highlight the companies that fit my prospect profile and then research the specific attendees.
There were hundreds and hundred of attendees. It would have made no sense to research each one individually. So instead I first focused on the companies, there were only a few dozen of those. Much more manageable.
Once you've narrowed it down to your top 5 companies or so find out who the best one or two attendees you should reach out to.
This is often done by position title but if you've done a good job prospecting then you may have already touched base with some of these people.
Send them a quick email letting them know you'll be at the conference and that you hope the two of you can connect.
I guarantee you have a much more insightful conversation with them in person in an open atmosphere then you ever would over the phone.
Make Sure You Have Everything You Need
This is a pretty self explanatory but you want to make sure you have everything you will need a least a few days prior to the trade show event.
I have a pretty stellar marketing team so they knew to get everything I needed to me quickly and early. Not everyone is as lucky.
But there are a few things that you absolutely have to have before a trade show.
Directions: Yes I have heard of sales reps not knowing where they are suppose to go and frantically trying to look up the event and directions on their phone. This also applies to where in the conference area you will be located. Sometimes there are multiple floors and it can take you a long time to find your spot if you don't already know where to go.
Decorations: This includes any table top covering, banners, TV monitors, or anything that is part of your display and backdrop. If you area real sales pro then you might have a spin wheel or other game that you can use to draw attention to your booth.
Conference Giveaways: Yes, you need to have giveaways at the event. Depending on your budget these could be high end items like a raffled iPad and USB braclets, or low end like pens and reusable bags. Whatever you decide to do make it clearly branded and preferably something that won't be easily thrown away.
Marketing Collateral: Flyers, brochures, handouts, etc. Be sure to have plenty of collateral available at the show. The last thing you want is to run out of flyers to hand out midway through the show.
Fishbowl: This is used to collect business cards. It doesn't have to be a fishbowl; it can be any type of container. As long as you have a place that people clearly understand where their business card should go.
If you want to really accelerate the card stack then offer a raffle to anyone who puts their business card in. This can be really low key like a $10 Starbucks gift card or really high end like a year supply of your product or an iPad mini.
Update Your Signature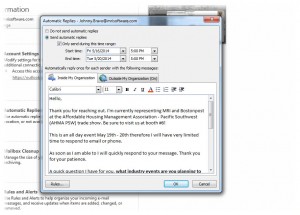 If your company allows it; be sure to make mention of the show and your attendance in your email signature. A simple statement like
I will be out of the office May 19-20 while attending the AHMA-PSW trade show. If you will also be attending be sure to visit and say hi at booth #6. Don't forget your business card to be entered into our raffle!
Nothing too crazy. The point is that every person you email will know that you are going to the show, and if they are too they'll be sure to stop by.
Update Your Out Of Office
Like your signature you should update your out of office to let people know that you will be attending the upcoming trade show.
Preferably you'd want to do this a couple of weeks in advance, turning it on every night so that every person that emails you until you turn it off knows that you and the company will be representing at the show.
Have A System
The main point I want to make is that you should hv e system set up for your trade shows. A checklist that you can go down marking the boxes as you complete the above tasks as well as the ones specific to your industry and show.
Anything you think should be added to this list? What are the top 3 things you maek sure to do befoe any trade show?Be sure to let me know in the comments below.
~ Johnny Bravo
Looking For Success In Sales?
Start Your FREE 7-Day Sales Success Course Today!
Learn the skills and techniques your competitors don't want you to know.