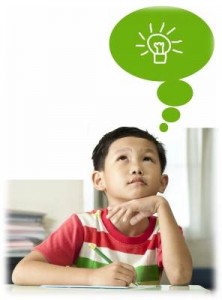 One of my worse fears is that I have a great idea and never get an opportunity to implement it or tell it's story.
Before I started developing my idea generating skills I would randomly have an idea and never capture it to fruition. Not a good thing.
The thing about great ideas is that they happen when you least expect it (like this post at 12:45am the night before a 6:30am conference call). So it's important to not only expect them, but be ready to harness them when the time comes. 
What To Do When You Have A Great Idea
The first thing I would recommend when the light bulb turns on is to write it down or otherwise catalog the idea.
I've created a simple spreadsheet that you can use to log ideas as they come. Simply click on the below link, download the file, and you're all set. You can also find this spreadsheet on the Resources page for future reference.
Download now –> Great Ideas Spreadsheet
There are a few key items included on this spreadsheet that you should log when an idea hits you.
Idea – Obviously you want to write down what your idea is, or if it's a blog post like my example then you want to write down the post title if you've already thought about it.
When/Where – I'll go into this a bit more soon but you want to take note of where you were, what you were doing, and when the idea struck you.
Relates to – Is this a post idea for your professional blog? For which blog (if you have more than one)? Or is this a book idea? Maybe it's a decorating idea for your living room.
Notes – This is where you'll put a little more detail into your idea. Key points about it or topics you want to cover if it's a blog post.
You'll want to keep this spreadsheet or any note taking device (iPad, notepad, etc) close by at all times. Print it out and keep it next to your bed, near your office desk, maybe even one in your car.
Be careful writing something down while driving though, that's dangerous.An alternative is to use your smartphone or any recording device to catalog your idea. You can later transfer it to paper if you need to.
What Triggered The Idea?
As you start to catalog and keep track of your ideas you'll likely start seeing patterns. Especially as it relates to where and when your ideas come.
Does it happen more when you're in the shower? In the car? Laying in bed? At night, in the morning? At your kids soccer game?
Everyone is different and ideas come to us at varying times for various reasons. If you start seeing a pattern of where and when your ideas come take note.
If you're mindful of when they come you'll be better prepared to capture them.
Can You Facilitate Great Ideas?
Absolutely!
Something that I do every once in a while, especially if I have writers block, is to take a note pad and sit in a quiet room.
What I am doing is dedicating a specific amount of time to just think. I don't worry about anything else besides coming up with great ideas.
When I was trying to finalize my idea for the Sales Pro Blog this is what I did to hammer out the details. I hope you'll agree it has worked out well so far.
What do you think, is it a good to log your ideas? Can you increase the chances of having a great idea? I'd love to hear your thoughts so be sure to comment below.
~ Johnny Bravo
Image courtesy of Poonsap / FreeDigitalPhotos.net
Looking For Success In Sales?
Start Your FREE 7-Day Sales Success Course Today!
Learn the skills and techniques your competitors don't want you to know.