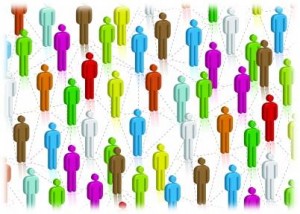 If you've had a chance to read my last post, you know that getting referrals from customers and prospects is the strongest form of prospecting you can do.
And although you can spend hours every day cold calling or foot prospecting, there are easier ways to build your list.
So today we're going to talk about sales networking and how to get the most out of meeting at events with your peers.
By meeting with other sales professionals and those in your target market you are building a group or network of individuals who's experiences you can draw from, whom may be able to introduce you to a new customer or can simply help you be a better sales person.
One thing I want you to keep in mind is that networking is a process, not an event. You can't simply show up, talk to people, and expect them to buy your product or service. And they surely won't be eager to give you any referrals.
It doesn't work that way. Networking is about building relationships.
Your goal is to build trust well before you ever make a sale. When networking, you want to express interest in the other person and the challenges they're facing. You want to be a good listener and focus on helping those you network with.
So lets dive a little deeper into how you can network like a sales pro.
Where To Network
Where you network can have a big effect on the outcome. Not all networking events are created equal.
It largely depends on your industry, your product, and the type of networker you are. But there are some common avenues where you're likely to get the most out of your networking.
Face To Face Networking Events
This is probably the most common type of event that someone will use to network. By meeting face to face you have the potential to create much higher quality relationships then other ways.
Mainly because there is no much more you can get from meeting someone in person.
Face to face networking events can include tradeshows, chamber of commerce events, business breakfasts, happy hours, alumni meetings, toast master meetings, etc.
Often I see networking events focused on an industry, a geographic area, profession, target market, or even common interest. Sky's the limit.
If you need help finding events in your area you can simply Google "Networking Events [your city] or [your industry]"
Or you can simply reach out to your local Chamber of Commerce. It's in their best interest to connect professionals with one another to promote their offerings. They likely have monthly networking events that are open to members and non-members alike. Usually attendance only requires a nominal fee.
Trade-shows are another great place to network. When I was selling polybags I went to a lawn and garden trade-show (because we sold fertilizer polybags) and had a great time meeting with current customers and prospects.
Trade-shows are obviously focused on a specific trade or industry. As such you have access to a lot of people that share similar passions and knowledge of their trade.
Use Social Media
Social media is another avenue you can use to network. LinkedIn and Twitter are my two favorite sites for networking.
LinkedIn is obviously meant specifically for networking. You can join groups which are the online versions of interest specific networking events. Be sure to be active in discussions and give away your expertise for free.
Twitter gives you the opportunity to follow others in your field (to gain industry insight) but also those who's business you'd like to earn.
Twitter is not always about business though. Often times prospects share personal information about their likes and dislikes. Use that to your advantage and again be active in the conversation.
Your Own Organization
Did you know that there are other employees at your company who may have connections to your dream prospects? Not possible right? I mean, if they did have connections to prospects they would have already surfaced that information and made the necessary introductions right?
Well actually no, probably not.
Not everyone that works for your company has a sales mindset. Working for a software company I can see a big difference between sales reps, engineers (coders), support staff, HR, etc.
They don't always think to make those connections or introductions. And they never would unless you ask.
It's easier than you might think to reach out to your internal network. All you do is email the head of every department and ask if you can shoot a quick email to any one on their team from your territory. I doubt they'd have a problem with that if you ask nicely.
How to Sales Network
How you network is just as important, if not more, than where you network.
Putting your best foot forward as a sales pro will give you a leg up when it comes time for someone to refer you over your competitors.
It's Not About You!
First of all DO NOT MAKE IT ABOUT YOU!
Was that clear enough? If not then I'll say it again, do not make it about you.
If you've subscribed to my newsletter then you already know how to create the perfect elevator pitch. And like your elevator pitch, your focus while networking, whether in person or online, is to explain how you've help others.
Be a good listener, understand their challenges, whether they are in your target market or not, and in no way push your product. Build that relationship first and the sales will follow.
Don't Stay In Your Clique
When I first started my sales career I had this problem. I was young, fresh out of college, and would attend networking events with coworkers.
Who do you think I "networked" with when I was at these events? Yep, my coworkers. We treated it like a happy hour and would only talk to those within our clique.
This is a bad idea and will not get you any new prospects.
First of all, a group of people from the same company is an intimidating group to talk to. There's the potential of rejection from not one person, but many.
Additionally, in no way are you networking! You are simply hanging out with your friends. A big no no when networking.
Taking a step back I do want you to know that you are likely to see many of the same people at the events you go to. Because, like you, they are interested in being the best sales pro they can be.
Be sure to say hi and spend a little time talking to them to see what is new in their life. Did they close that sale they mentioned to you before. How did their daughter do at her soccer tournament? BUILD RELATIONSHIPS!
But once you've talked with those you know for a few brief minutes, start meeting new people. Anyone and everyone you can. You never know where new business will come from.
My friends (ex-coworkers) have a saying. "Man Up!" It means to take the plunge, take risks, be OK with failing, be OK with the unknown.
Have A Goal In Mind
Never go to a networking event without having a plan. This includes a goal that you've set for yourself.
As the saying goes, "If you aim at nothing, you'll hit it every time. "
Have a goal for what you want to accomplish when you attend networking events or trade-shows.
Do you want to set one, two, three meetings?

Do you plan on meeting ten new people?

Is a top prospect planning to attend, do you want to have a great conversation with them?
Whatever it is have that goal in mind and plan on accomplishing it.
And by the way, there is no reason you can't accomplish all those activities in one sitting. Be open minded and believe in yourself.
Your Next Steps
So now you have an idea of how to network like a sales pro you're probably wondering what to do now. Well you have a few options.
You can network with me by connecting on LinkedIn.
If you live or work in LA and are going to a networking event, let me know and I'll see if I can join and we can get to know each other better.
Comment below and let the group know what networking events you're going to in the near future. Maybe some one here will read it and be going too.
~Johnny Bravo
Image courtesy of Naypong / FreeDigitalPhotos.net
Looking For Success In Sales?
Start Your FREE 7-Day Sales Success Course Today!
Learn the skills and techniques your competitors don't want you to know.