Sales Tips & Tricks
for sales professionals
Experienced-based sales techniques that get results.
Stop guessing, start selling.

 free actionable information

 in-depth posts on every aspect of sales

 sales techniques to earn you higher commissions
Sales is a natural part of life. Everything you do involves selling. Whether that's selling your professional brand to an employer, selling yourself to a spouse, or more likely selling a product, you are always selling. Use my experience as a sales professional to stand out from the crowd and be recognized as a sales pro.
The first step? Sign up for my weekly newsletter to get exclusive content plus
3 TOP SALES RESOURCES!
Also be sure to check out some of the top posts below.
3 Exclusive Sales Pro Blog Resources
Take the first step to becoming an awesome Sales Pro and you'll instantly get 3 FREE resources to help you...

Learn To Use LinkedIn Like A Pro

Better Manage Your Activities

Learn The Best Prospecting Methods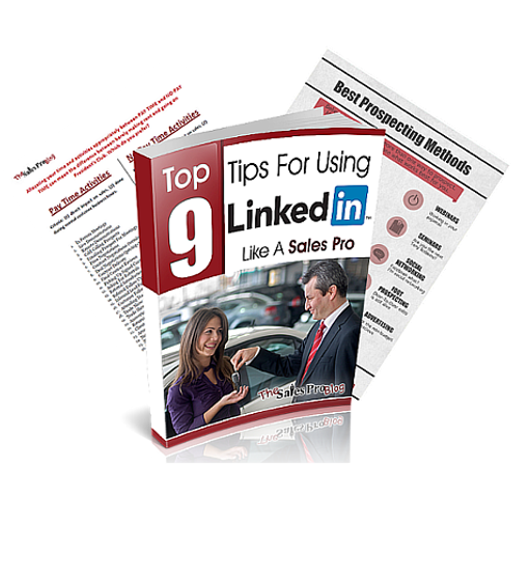 (No Need To Have My 10+ Years Sales Experience: I'm Giving It To You For FREE)
Sales Tips & Tricks For Sales Professionals
Sales Prospecting

Sales Training

Successful sales prospecting is the lifeblood of a sales team.  Knowing how, when, and who to prospect too will ensure that your sales funnel is always full and you're always hitting your quota.

Finding new clients takes time, skills, and guts. Work hard so that you can play hard when all the other sales reps are trying to play catch up during the slow times.

Top Sales Prospecting Posts:

For some people sales comes naturally to them. They are social, intuitive, and persistent. But for most, a standardized sales training program can mean the difference between success and failure.

Although there are many sales training programs out there you should always choose one that is right for your team and your company.

Top Sales Training Posts:
Sales Negotiation

Sales Networking

Negotiation (affiliate link) is one of the most important skills any person can have. Being able to negotiate for what you want will serve you well in life. It's not always about winning and it's definitely not about losing, but creating a win-win scenario is what you should be looking for.

Whether it's where to go to dinner or a multi-million dollar deal, your negotiation skills always need to be top notch.

Top Sales Negotiation Posts:

Relationship building and networking are one of the best ways to grow your account base. Referrals and introductions will be the best client leads you will ever get.

Whether that's online or offline, meeting others in your industry is the single most important thing you can to do be successful in your business and your sales. Remember that sales networking is a process not an event.

Top Sales Networking Posts:
Career Management

Professional Branding

Most professionals do not stay in the same career or with the same company their entire working life. The job market has changed and whether you are established or an out of college new hire, career management is required to stay ahead of the game.

Managing your career doesn't have to be a full time job (pun intended) but knowing the basics and understanding the game will keep you relevant and employed.

Top Career Management Posts:

Branding yourself as an expert in your field is vital to being a successful salesperson. Knowing how to harness the power of the internet and social media for your benefit will serve you for years to come.

Professional branding is not just about your image, it's about your story as well. The emotions you elicit from your future clients and employers is all part of selling.

Top Professional Branding Posts:
Sales Technique

Sales Management

Saying the right thing at the right time is as essential to sales as it is to comedy. Whether you're negotiating a deal or digging into pain, having the right techniques in your toolkit will make you the best professional you can be.

Sales is not always about technique, delivery matters too. Understanding the skills that are necessary and sometimes required will help you stand out from the crowd.

Top Sales Technique Posts:

For many, sales management is the logical next step after being a top producing sales person. However there are many skills a sales manager requires that a top producer doesn't. And there are many skills a top sales rep will have that a manager should not.

Knowing how to morph your skills as an individual producer to a team leader is essential if you want to be successful. Although I am not currently a sales manager it is my ultimate goal.

Top Sales Management Posts: