VIP Status & Early Access To My Upcoming Trade Show Guide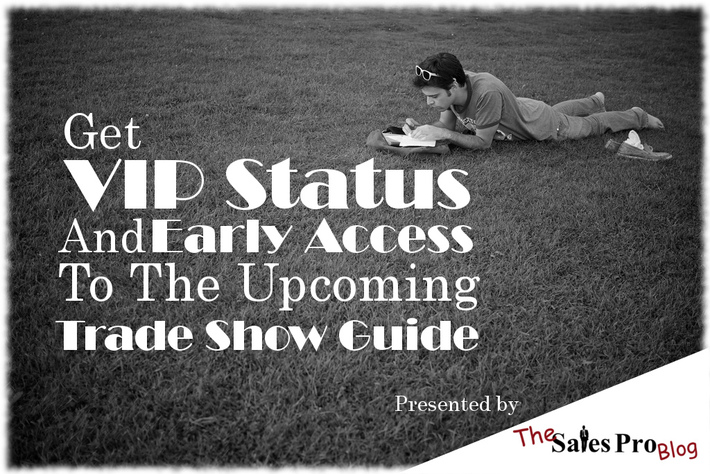 Trade Shows are a regular part of a successful sales career and a normal aspect of every business marketing plan.
Unfortunately there are many professionals out there who don't know quite how to plan, prepare, and execute a successful Trade Show.
If that is the case with your company than you are probably missing out on thousands or millions of dollars in revenue.
Worse yet, your current Trade Show presence may be hurting your business by turning clients and prospects off. Or maybe you aren't taking advantage of shows to highlight your latest products.
Well know that you're not alone. And that I'm here to help.
[ois skin="TSG Landing Page Signup"]
In my upcoming Trade Show Guide (title pending…) I lay out a step by step process that you can use for any Trade Show event.
Some of the topics covered include:
Common mistakes Trade Show exhibitors make
How to set goals for your Trade Shows
How to Prepare, Plan, and Executive
What to do before, during, and after the Trade Show
How to follow up with your booth visitors
How to get the best Trade Show Giveaways for the best possible value
…and much much more.
So whether you've never attended a trade show before or you've been to hundreds, this guide will shed new light on how you can be successful in today's competitive professional world.
What Does VIP Access Mean?
As a reader of the Sales Pro Blog you've done so much for me that I want to repay you. That is why I've created a special VIP sign up just for you.
Once you sign up you'll be among a select few who will be notified of the upcoming release date. You'll also be given early access to the guide.
That's right, you'll be able to get the Trade Show Guide before anyone else.
On top of that you'll get a VIP discount code to get the guide at a 50% discount.
Lastly, and this will be for ONLY my VIPs, I will give 3 awesome bonuses with your purchase. There's one problem though; you may not get those bonuses if you delay. You see I'm only offering those valuable resources to the first 100 purchases.
So as soon as I announce the release date be sure to mark your calendar so you don't miss out. Until then fill out the form below and get your VIP status today.
[ois skin="TSG Landing Page Signup"]
Remember, selling is not a way of life, it's a part of it. 
~Johnny Bravo
Image courtesy of thomasleuthard / flickr
Looking For Success In Sales?
Start Your FREE 7-Day Sales Success Course Today!
Learn the skills and techniques your competitors don't want you to know.