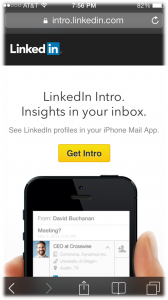 LinkedIn Intro is LinkedIn's newest release into the mobile world and in my opinion one of their most innovative apps yet. In addition to an updated release of their LinkedIn app and Pulse app, Intro is a brand new way to connect with professionals (who have LinkedIn profiles) directly within the native iOS email client.
Essentially LinkedIn Intro integrates a sender's LinkedIn profile directly into the email allowing you to to see their recent posts, connections, experience, and almost full profile.
All from a horizontal button directly below the subject and time stamp. Simply click on it to expand the information down.
And although Intro currently only supports Gmail, Google apps, Yahoo! Mail, AOL, and iCloud there is no reason to think that will not soon be expanded on once the official Intro app is released in the app store. 
The idea for this goes all the way back to LinkedIn's purchase of a company called Rapportive which was acquired in the beginning of 2012. Rapportive allowed you to view a senders LinkedIn profile directly in your mail client.
What makes Intro so special is that it has been considered all but impossible to add extensions into the native iOS mail client. LinkedIn, being as clever as always, found a way. 
How LinkedIn Intro Works
Although you might think of it as a plugin, LinkedIn Intro merely takes advantage of being the middle man between your mail server and your native mail client (on your iPhone).  According to Martin Kleppmann, a Sr. Software Engineer at LinkedIn:
"Normally your device connects directly to the servers of your email provider (Gmail, Yahoo, AOL, etc.), but we can configure the device to connect to the Intro proxy server instead.

The Intro proxy server speaks the IMAP protocol just like an email provider, but it doesn't store messages itself. Instead, it forwards requests from the device to your email provider, and forwards responses from the email provider back to the device. En route, it inserts Intro information at the beginning of each message body — we call this the top bar."
For a more detailed explanation check out this post over at LinkedIn Engineering.
As you go through the set up process (see below) LinkedIn Intro creates a new iPhone email account (my was called Gmail +Intro) that routes incoming and outgoing messages while adding in the LinkedIn profile information.
Essentially, when you get an email, there's a button below the sender that shows her company and position, assuming she has a LinkedIn account. If you tap that top bar, it'll expand and give you a full view of that contact's experience, connections, and more.
How to Setup And Install LinkedIn Intro
There are two ways to start the setup process.
Either open up Safari (has to be Safari) on your iPhone and visit intro.linkedin.com or visit the site on your desktop and enter the phone number of the phone you'd like to add it to.
Click "Get Intro"
Click on the "get started" screen again
Enter your email address and click continue
Sign into your email account
Accept that you are allowing LinkedIn Intro to access your email account
Click the Install button
Click on "Install Now" (there seems to be quite a bit of redundancy in the setup)
Enter your iPhone passcode if needed
Installed and Done!
After the setup it will ask you to turn off the old mail to prevent duplicate emails. This is highly recommended and you can find instructions here if needed.
What This Means For Sales People
Initially I can already see a few areas this will affect sales people and how you can use LinkedIn Intro to your advantage.
Below I've listed a couple of considerations as Intro creates a whole new way to experience your emails and LinkedIn.
Update Your LinkedIn Profile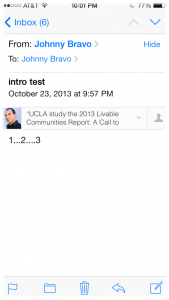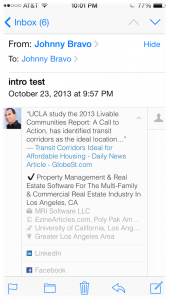 The obvious first step is to update your LinkedIn profile.
Now that everyone who uses Intro will see it you'll need to give it a little more specific focus. Additionally when you send an email using the Intro account, you'll have a small snippet from your profile as the signature.
In the emails I sent to myself testing the top bar and signature I got a few different outcomes.
When reading the email that was sent to me (first picture to the left with 1…2…3) you'll notice that it is showing two lines of my most recent post share.
The same is true when you click on the down arrow to expand my profile (right picture). Next showcasing my headline, then current and past companies. From there you can scroll down to see almost my entire profile.
Although you can use the fact that it lists your most recent posts, you have to be careful about that if you are sending out a lot prospect emails.
Comment below if you can think of great ways to customize the top bar using a recent LinkedIn share. 
If you need help with your LinkedIn profile here are a few resources to help you out.
LinkedIn Intro Prospects Now Have Your Information Immediately
Every time you email a prospect that is using LinkedIn Intro they now have instant access to your professional information.
This again is why you need to update your profile and keep it current. Otherwise they may be turned off by the lack of information on your profile.
Don't forget to add a professionally looking picture.
And although LinkedIn Intro has only been around for a short time there is a lot of potential already built into the system.
Let me know in the comments below what ideas you have for using LinkedIn Intro.
~ Johnny Bravo
Looking For Success In Sales?
Start Your FREE 7-Day Sales Success Course Today!
Learn the skills and techniques your competitors don't want you to know.