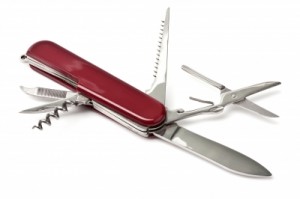 Sales prospecting tools are not always everyday items you might consider "tools" such as a cell phone, computer, projector, etc.
They don't tend to be physical objects you can hold. But when used right they will help you be the most successful sales person in your company.
Instead what I consider a tool is any object or concept that will help you do something better.
Below are the three tools important to sales prospecting that I use every day. They are quick and easy and once you get your own style dialed into them you can be unstoppable.
It comes down to a message, a strategy, and a CRM. With these three tools you'll have no problem filling your pipeline.
A Compelling Message
This is the absolute most important part of prospecting. If you do not have a compelling message that will captivate your audience then your emails will not get opened and your calls will not be returned.
The easiest way to make sure your message is enticing is to customize it for each interaction and each prospect you are reaching out to.
DO NOT send a generic email where the contact name and company is the only thing changed. Reference something about their company you found in a business journal. Send them a news article or press release they might find interesting. Let them know you'll be at a local event and you'd love to have them join you.
Whatever it is always have their interest first and try to build a relationship that is value added before trying to sell.
Additionally you want to make sure to mix up the interaction you use. Email, call, handwritten letters, foot prospecting, gifts, and everything else in between.
This helps keep your messages from becoming monotonous (as well as getting on their spam filter list).
A Strong Sales Strategy
Now that you have your message in place you need to have an easy to follow plan to help you stay consistent in your follow up.
Be sure to check out my TREAT Method For Sales Prospecting if you haven't already had a chance too.
You'll first want to define what resources you'll use to find new prospects. As you start reaching out you'll be qualifying and disqualifying contacts on a regular basis so in order to keep your pipeline filled you'll need a steady source of new contacts.
Next you'll want to define the resources you'll use to research new sales prospects. Doing proper research is essential to delivering the customized interactions described above.
Once you've done your research you'll want to engage those targeted contacts and companies. As mentioned above be sure to mix up your message (both in terms of context and method). This part of your prospecting strategy will take up the majority of your activities at first and that's OK.
As you practice you'll get better and better and soon you'll have more accounts then you know what to do with. And important thing to keep in mind is that when that happens you want to be sure to KEEP PROSPECTING. Otherwise you could fall into the trap of being too focused on account management that you don't refill your sales funnel.
Part of your strategy should include consistent prospecting time set aside every single week at the very least.
Lastly you'll want to have a set cadence for following up. That way you are being professionally persistent in reaching out to contacts without being too annoying. The last thing you want to do is be viewed as a pest when you're cold calling.
Keep in mind this applies to prospects that you know are qualified for your product but have said no. Instead of weekly following up with them you'll spread it out a little more say monthly or quarterly depending on their sales cycle.
A Contact Management System or CRM
The last of the sales prospecting tools you can and should use everyday is a CRM. That usually stands for Contact Relationship Manager or Contact Management System or something similar.
This is a central repository for all prospect and account information.
The way to use this for prospecting is to keep all contact information you've found in your research in addition to details of EVERY conversation and interaction you've had with them.
My favorite CRM availabe to everyone is Zoho.com. It's easy to use, looks great, and offers free and paid for products. When I worked for a plastics manufacturer (not a tech savvy industry) they didn't have a CRM in place so I used it very effectively.
There are of course other enterprise level CRMs such as SalesForce.com, Oracle, and Microsoft but I've found that there is much more investment involved in implementing one of those.
If you're in outside sales, on your own when it comes to prospect tracking, or looking for something small for your company, Zoho should serve you well.
The Last Step To Be Successful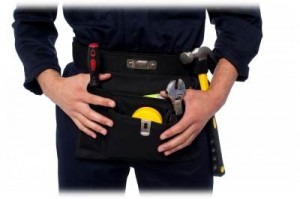 The above mentioned sales prospecting tools are great and will work. But the only way to be successful is to actually use them.
In any part of your life if you have the tools to be great and you don't use them, then don't go crying about it.m. That is the final step to greatness.
Use what you have and you'll be a sales pro in no time.
~ Johnny Bravo
Image courtesy of posterize & stockimages / FreeDigitalPhotos.net
Looking For Success In Sales?
Start Your FREE 7-Day Sales Success Course Today!
Learn the skills and techniques your competitors don't want you to know.