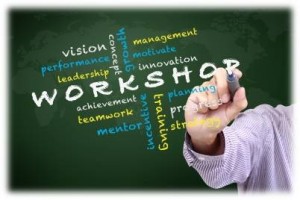 We're going strong on our types of sales training series. Today we'll be talking about workshops.
Workshops are a great way to advance sales training for individuals and the company as a whole.
They can be used for anything from prospecting skills, to marketing messages, from customer interactions to daily activities for your sales team.
But considering they can be used for anything…they SHOULD be used for EVERYTHING!
No matter how small or insignificant a process may seem. If it has an impact on your business or sales team, it should be workshopped!
And after a process has been through your workshop and refined, it should be revisited at least once every year. This is to ensure that it is still relevant and works as planned.

And like the examples given above, there are an infinite amount of activities and processes that can be improved through a workshop. For example…
Team Building
Workshops are a great way to build a cohesive sales team. They allow everyone to be involved in the creation of company policies and processes.
This in turn will give each sales person ownership of the those processes and they will be much more likely to follow the results produced from the workshops.
This is a great way to build buy-in within your sales team and organization as a whole.
Filling Knowledge Gaps
Workshops help fill in any holes in the knowledge base of your sales team.
Whether it's product knowledge or process knowledge, a lot can be learned through interaction during these sessions.
In addition to improving processes, workshops will bring new ideas to the table. Especially when you have a group of people from different backgrounds or different departments working on the same problem together.
Establishing Company Policys
Imagine if you had a single resource that contained all of your best practices. A single resource to give all new hires so that they can quickly learn company policies without having to ask multiple people in multiple departments.
This idea actually comes from Chet Holmes of The Ultimate Sales Machine (affiliate link).
Use workshop sales training to build a comprehensive resource for your sales team's best practices and processes.
Four Steps To Get The Most Out Of Workshops
In order to get the most out of these sessions there are a few best practices I recommend.
These are just recommendations though, so make sure to tailor this to your organization and sales team.
First of all they need to be mandatory. Every week every member of a team should be involved. Whether that is in person or by calling in. This is essential.
Second, they should be free of criticism, judgement, or anything that would hamper the creative process. Pretty much anything goes.
Without this rule you risk someone with a good idea not speaking up because they are afraid of what the response will be.
Third, there should be no less than two different departments in each workshop. I work for a property management software company so an example I'd recommend is the sales team and customer service team being involved in a workshop. Or maybe Development and HR. Or even IT and Facilities.
Depending on what process you are working on, it may make complete sense to include different or multiple departments in the workshop.
Just Do It
Workshops work. There's no doubt about it.
But they only work if you do them, and document the knowledge that is gained from them.
So get to work and let me know how it works out in the comments below. Or if you want more ideas, be sure to sign up for The Sales Pro Blog Newsletter.
~ Johnny Bravo
Items Mentioned In This Post:
– The Ultimate Sales Machine by Chet Holmes
Image courtesy of KROMKRATHOG / FreeDigitalPhotos.net
Looking For Success In Sales?
Start Your FREE 7-Day Sales Success Course Today!
Learn the skills and techniques your competitors don't want you to know.