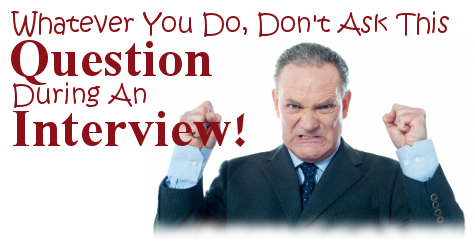 In my post
How To Say No To Recruiter
I shared my experience talking with a recruiter who cold called me.
Before saying no to an interview I talked about the first thing you should do:
ask questions
.
Well as I was considering the kind of questions you should ask during that kind of interview, it also made me think of the questions you SHOULDN'T ask.
Today I want to offer you a piece of advice to help you stand out from the crowd. I want to first eliminate a question you have probably already asked in an interview, and replace it with something that will help you differentiate yourself.
Most job candidates ask the same questions.
What is the culture like?
What is the salary?
What attributes are you looking for in your next hire?
And from my experience, more often than not is the question, "What are the growth opportunities in this position?".
On the outside you would think this is a good question. You are asking if there is a future for you in this company, beyond this initial hire.
The problem is that it is a generic question which is asking for a generic answer. The answer could quite literally be something as simple as "Good".
I have to assume that is not what you are looking for by asking that question. You want to know that if you stick around, your career won't be stagnant. You want to know that the company is prospering to the point of adding levels to the organizational structure. You want to know that there is potential for your income to increase above inflation. You want to know that your hard work will be well rewarded. You want to know that this will be the right fit for you now and in the future.
"What are the growth opportunities in this position?" won't answer those questions.
Instead go deep with the question. A few different options you might consider are:
"If I join your team I'd expect to be here for years if not decades. For those who started in this position or have been here that long, what career growth have they experienced?"
"What attributes and achievements are rewarded with growth, how are they measured, and what growth have they led to?"
"What growth has our longest tenure employee experienced in the last 5 years?"
These questions ask specifics to the question(s) you are really asking. You are looking for examples that speak to the culture, growth, and opportunity within the company.
Sure you can ask the normal question but they'll tell you "the plan" which is rarely ever the case. Do your due diligence, ask the hard questions, and make the right choice for your career.
What are your thoughts? Any other suggestions to help eliminate that question from interviews? 
~ JohnnyBravo
Image courtesy of stockimages / FreeDigitalPhotos.net
Looking For Success In Sales?
Start Your FREE 7-Day Sales Success Course Today!
Learn the skills and techniques your competitors don't want you to know.