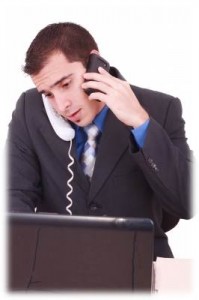 For over a decade I have held multiple roles within the sales profession. Each with it's own set of challenges to overcome. But one area for inside sales teams I often see a lackluster focus on is prospecting.
Today I'm going to lay out some of the many reasons why even inside sales positions (Account Managers, Account Coordinators, Sales Representatives, etc.), need to be prospecting. Inside sales primary focus is on keeping clients as clients and when possible up-selling them. I'd like to add to that the need to prospect like an outside sales role.
For this discussion I will use the Account Manager title throughout the post to avoid any confusion. And although I use the title Account Manager lightly, it does accurately describe the role of managing active accounts.
I was recently having a conversation with a colleague about their pipeline and desire for more prospects. The lower ends of their sales funnel was not getting the attention it deserved. The conversation was short but came down to their belief that its not the roll of inside sales to prospect. That's business development or outside sales. Or that new leads should be sent to them based on the company marketing efforts.
And although in many ways that is true, and new leads will come through those channels, that puts a lot of risk on your pipeline which you are responsible for. It's your territory and they are your accounts.
Account Attrition Is A Fact Of Life
Even the best sales person will lose accounts during their career. It happens, it's expected, it's OK. 
Companies leave for various reasons; companies are bought, sold, or dissolved and absorbed. Your main contact may leave to be replaced with a new contact who faithfully follows your competitor.
Account attrition is only problem if you have nothing to fill the void with. This type of issue is never a problem for the prospecting account manager because they keep a healthy pipeline of incoming deals at all times.
Sales Goals Often Includes Adding New Business
This can vary by company but generally all sales organizations require thier account managers to keep their account base growing while adding net new business to their portfolio.
When I was an account manager I had to keep the corporate accounts happy while still trying to reach my goal for new business. During that time I did a great job and was honored with our annual President's Club Trip. the highest sales award one can achieve there.
Prospecting to new accounts gives you opportunities to sell the full selection of your product offering. And it gives you more experience to combine your various offerings to make the perfect offering for that new client.
Less Opportunities To Network
Networking can be an issue when it comes to prospecting for inside sales account managers.
Generally it's the outside Account Executives who is out to wine and dine clients. Meeting decision makers and handing out tradeshow items at events. All the while making those strong connections that are a far reach from a telephone call.Account Managers don't always have the luxury of driving miles to meet with clients. They are usually based out of a home office. They also have to attend the local events where the other account managers will likely be doing the same thing.
This is especially true for larger cities like Los Angeles, San Francisco, New York, etc.
There is where social selling through LinkedIn and Twitter or Facebook will serve you well.
Or of course the strongest lead you can get…a referral from your current clients.
Inside Sales Is Growing A LOT…So You Want To Stand Out
Any time there is an economic bull market, sales positions are always on the rise. And considering our current state I don't see that changing any time soon. Sales jobs will be growing steadily for the next couple of years at a minimum.
With our current technology it is much easier (and cheaper) to have remote employees that can handle all but the most complex deals.
And those who have a track record of bringing in new business along with growing their account base will be first to be promoted and last to lose their jobs during a downturn.
New Business Pays Better Commissions
Most companies (every single one I've ever worked for) pay higher commission on new business then they do repeat business.
Often time the margins are better on new business and new business is how the company as a whole survives.
So it's your job to focus on your main accounts while trying to get some prospecting and referral conversations in there.
Do that and you will definitely stand out like a rock star!
~ Johnny Bravo
Image courtesy of David Castillo Dominici / FreeDigitalPhotos.net
Looking For Success In Sales?
Start Your FREE 7-Day Sales Success Course Today!
Learn the skills and techniques your competitors don't want you to know.