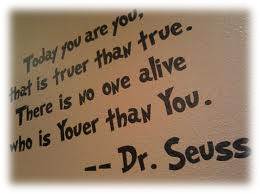 I was recently browsing through my Pinterest feed and came across a bunch of Dr. Seuss quotes. In general I like to collect catchy phrases that I see there but as I was scrolling through some other quotes, it really dawned on me how incredible Dr. Seuss was as a writer and educator.
With a baby boy on the way I will soon be adjusting my normal reading library to accommodate his tastes and understandings. I am absoltuely sure Dr. Seuss will be a part of that change.
So to honor that decision early I've decided to pick out my 10 favorite Dr. Seuss quotes that any sales person can use in their daily lives.
Enjoy!
You have brains in your head. You have feet in your shoes. You can steer yourself any direction you choose.
You have everything you need to be successful. Whether that involves traveling, working hard, or simply making a choice, you are in control of your destiny.
Don't let life happen on accident. Have a plan, stick to it, and work hard to achieve the goals you've set.
Think left and think right and think low and think high. Oh, the thinks you can think up if only you try!
Creatively doesn't always comes with a light bulb above the head. Sometimes you have to look around and find your inspiration. Just remember that it wont always come immediately. In fact it rarely does, at least in my experience.
It takes devotion to whittling down past the mundane until you finally reach the really good stuff.
Why fit in when you were born to stand out?
This is my favorite of the Dr. Seuss quotes. We are all individuals who have unique abilities that no other person has. Use those differences to your advantage and stand out from the crowd.
Think about what you can do that no one else can do better. Use that when you're making sales, or trying to sell your skills to a new employer. Highlight that uniqueness everywhere you can.
To get my free guide to will help you stand out LinkedIn click here.
Today I shall behave, as if this is the day I will be remembered.
Say this every single morning for the rest of your life. Make TODAY count. Do something that will be remembered.
Get your spouse some flowers. Do more cold calls then you've ever done before. Write a ton of thank you letters.
Today you are you, that is truer than true. There is no one alive who is youer than you.
I love this one too. Don't try to be someone you're not. You're not a sales person, you are a human being trying to have a conversation with another human. You are trying to help fix their problems, not sell them something.
Do not separate your professional life so far from your personal life that there comes a time when you have to choose between the two. They should be one "you". Don't try to be something you're not.
Be who you are and say what you mean. Because those who mind don't matter and those who matter don't mind.
Another great statement about being true to yourself. Do not change who you are for someone else. You are who you are. Be proud of it.
Your good friends will embrace you for it while the weaker ones will move on to your benefit.
Today is your day! your mountain is waiting. So… get on your way.
Seize the day! Do it NOW. Do not delay what ever it is that you are procrastinating on.
Take out the trash. Climb a mountain. Go for a run. Make those cold calls. Close that sale!
Sometimes the questions are complicated and the answers are simple
This is a pretty obvious issue that many sales people run into daily. Knowing what questions to ask is sometimes more important, and harder to do, then answering them.
This is why you need to be a consultant to your clients. Not a sales person. Work with them, understand their business. Only then will you be able to be a strategic partner to them.
Teeth are always in style
SMILE! On the phone and in person. Do it a lot. Smiling makes you more attractive. It can brighten a persons day. It can actually brighten yours too.
It changes the way your voice sounds. It relieves stress. It lowers blood pressure. It even makes you look younger.
The more that you read, The more things you will know. The more that you learn, The more places you'll go.
As I've mentioned many times before, I believe that sales leaders are sales readers. You should always be reading to improve your mind and skills.
And even if you're not a big self-help book reader, read anything. Or even get audio books. I personally like the feel and smell of paper books so I read them more than say on a tablet or CD, but there are many options available to you.
~ Johnny Bravo
Photo Credit:
Flickr
Looking For Success In Sales?
Start Your FREE 7-Day Sales Success Course Today!
Learn the skills and techniques your competitors don't want you to know.